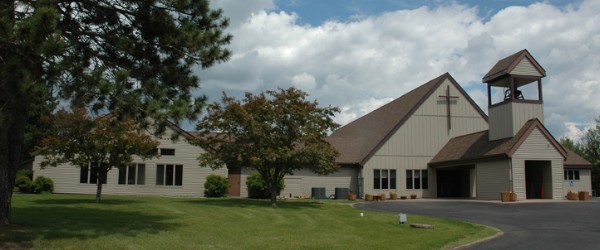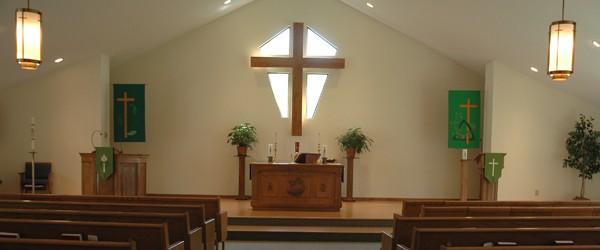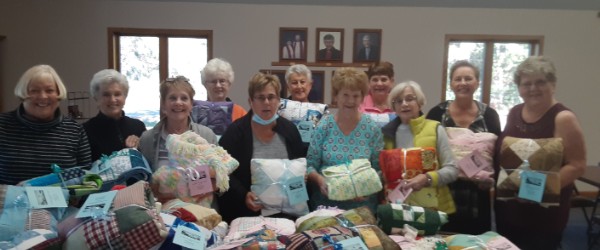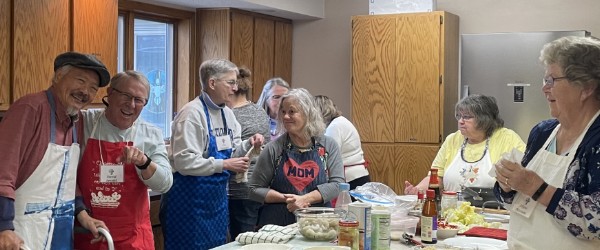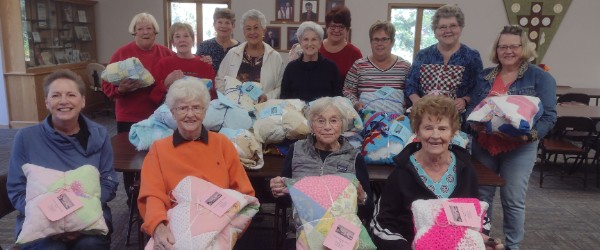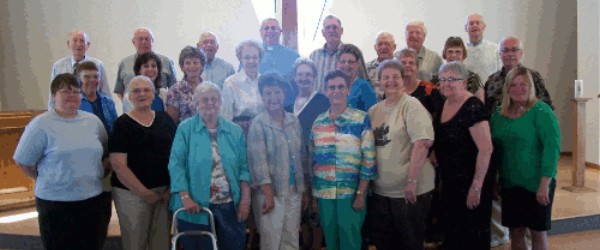 Carpet was replaced in Pastor Bill's office and the Sunday School room the week of January 17, 2022. Included in the photos below are Mick Peterson, Gordy Nelson and Tom Schneiberg, who are putting Pastor Bill's office back together again.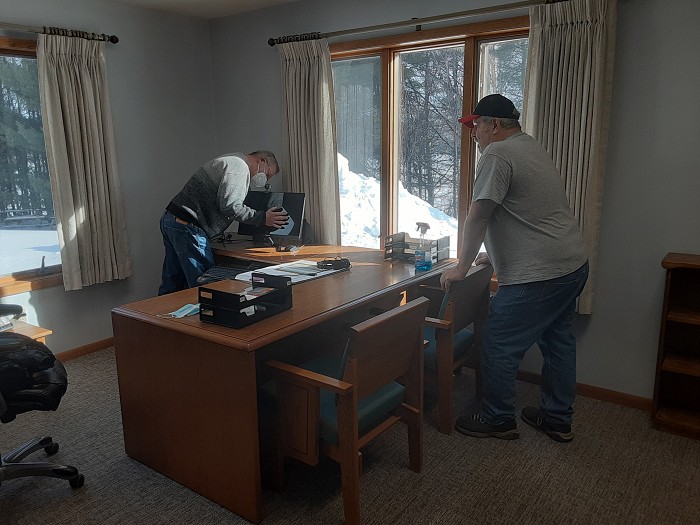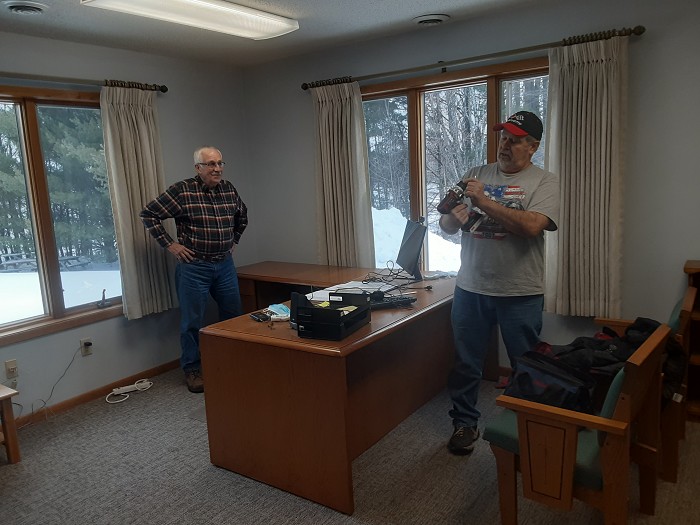 Jan. 12, 2022

The Wisconsin Church Council is recommending churches move worship to online methods. Lakeside's Council is recommending online worship for now. For those who need in-person worship to fill their spiritual needs, we will continue to have worship in the church building. The CDC is still highly recommending masks for all. Later in the day on Sundays, the Sunday services will be found on our website at: www.lakesidelutheranwi.com .
Stay safe, everyone!

Lakeside's Council
Letter from The Council President:
Happy New Year members of Lakeside Community Lutheran Church. I hope you had a wonderful Christmas.

With the new year, comes new beginnings. Many of you have been asking about the process for selecting a new pastor. Per Synod guidelines, the church is not to take any actions toward searching for a new pastor until the outgoing pastor has left. This is done for two reasons. One, to prevent the outgoing pastor from influencing the ultimate selection of the incoming pastor at any level, and two, to have the congregation enjoy the time remaining with the current pastor. This is a proven successful process. After Pastor Bill does his last service, an assigned Interim Pastor will lead the church. The Interim Pastor will have a minimum 6 month assignment with the church, though the selection process of a new pastor will undoubtedly take significantly longer. During this time, the Interim Pastor will help the church with grief and usher in a time of renewal. A Call Committee will also be chosen and they will start the task of finding our next pastor.

The process may seem slow to some of you, but I assure you, before you know it, we will be on the other side of the process and Lakeside Community Lutheran Church will have a great new pastor. Here is to a great 2022!

Blessings,
Ken Busby Jr.
Council President

Read the new
Advent Reflections
from Pastor Bill.
Below: Dawn and Doug Straub are once again delivering quilts made by Lakeside's Mission Quilters for each of the 17 boys at Northwest Passage who will not be going home this Christmas. How awesome!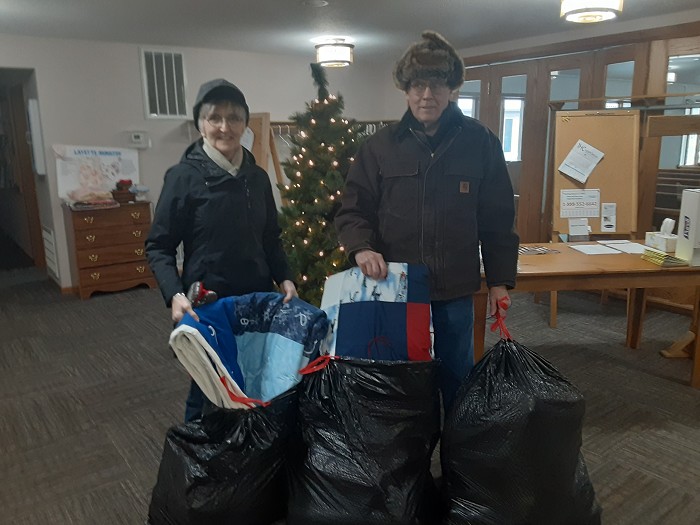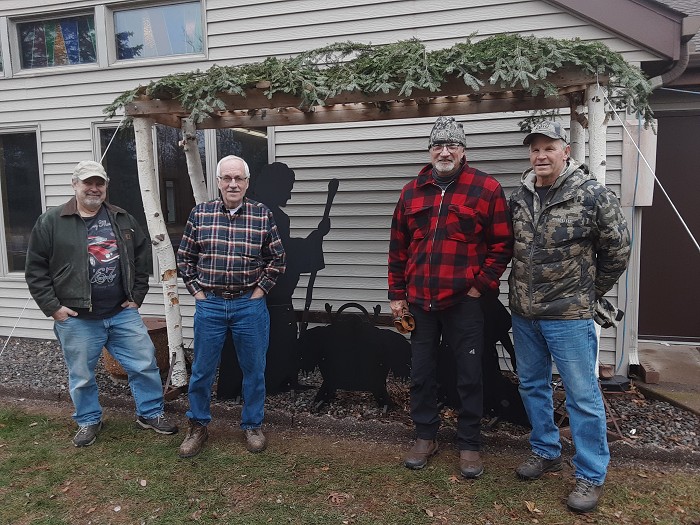 These hard working fellas put up the Nativity Scene again this year at Lakeside.
Gordy Nelson, Mick Peterson, Johnny Fox, Fred Paulson
QUILTERS PREPARE TO MAKE MORE MISSION QUILTS
Happy Mission Quilters received a generous gift of $250 from Thrivent Choice to spend on three rolls of batting for making more mission quilts. Dedicated quilters, wearing Thrivent T-shirts are: Dawn Straub, Ann Peterson, Margy Rogers, Ruth Peterson, Jolyne Peterson, Cecilia Bennett, Carolyn Pittman, and Jill Schroeder. Your hard work is appreciated!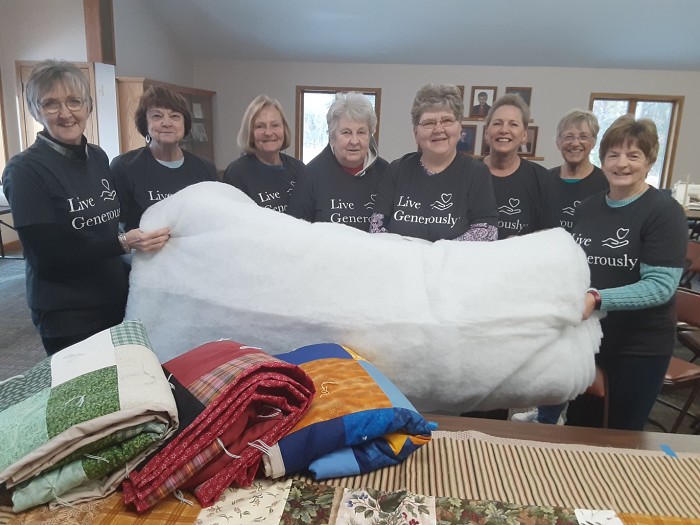 Wearing Masks In Church - From Council:
The CDC is recommending that all people, vaccinated and unvaccinated, should wear masks while indoors. There have been an increasing number of Covid cases in Burnett County. Therefore, the Church Council is "highly recommending that all people, vaccinated and unvaccinated, wear a mask while in the church for any activity". This is effective immediately. The first priority of the Council continues to be the safety of Pastor Bill, Marsha, our entire staff and all members of Lakeside. We will also be temporarily stopping in-person Sunday School until further notice. Thank you for your understanding and cooperation.

The Church Council: Mark Whiteside - Council president, Pat Sulander - Council Vice-president, Randy Bennett, Roger
Jackson, Renay Jonjak, John LeMay, Vicki Struve, Dave Swan, Deb Wertanen

SCOTT MICHAEL BURNS
prepared, examined, and approved for the ministry and who was called by the church to this ministry through RIDGELAND LUTHERAN CHURCH. Congratulations to Scott (Patti) on this accomplishment! We wish you the best! Watch Service
Below: Pastor Bill, Pastor Scott Burns, Bishop Laurie Skow-Anderson.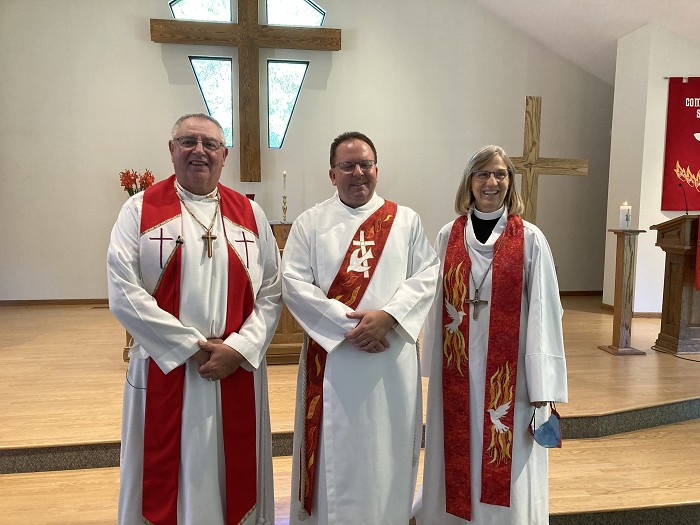 Below: Back Row: Roger Pittman, Sam Kochel, Wes Myes, randy Olson and Bill Schroeder.
Front Row: Terrance Stratton, Grant Aaseng, Scott Burns, Dany Wheeler, Bishop Laurie Skow-Anderson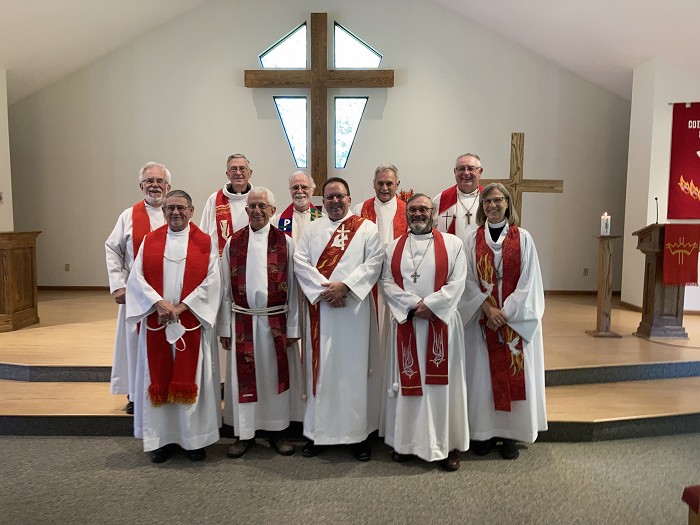 How did we "S

hare the Peace

" during the pandemic!
W

atch Now
What's Going On At Lakeside:
New Video System:
Lakeside Gives Back
Please look at the calendar for events involving Groups. View Calendar