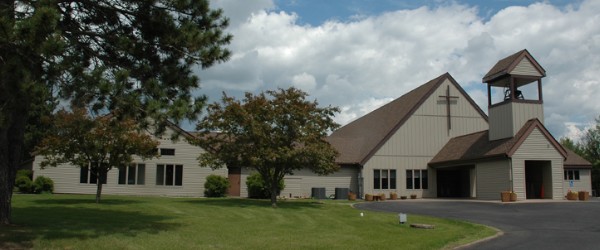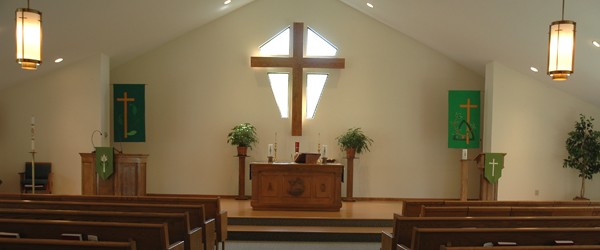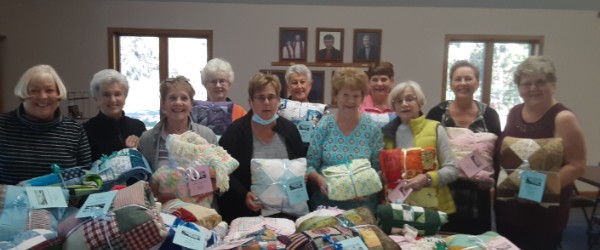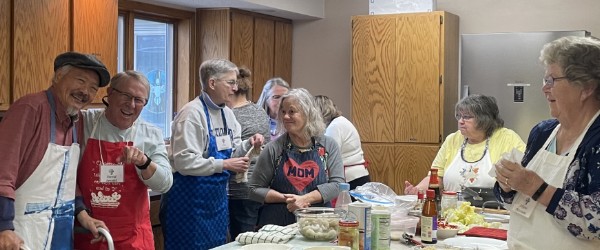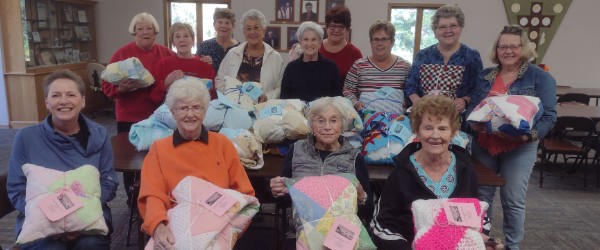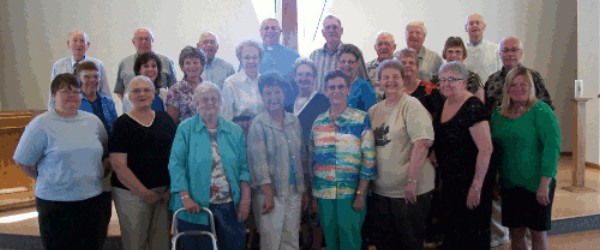 Nominate A Pastoral Candidate
: Do you know someone who you would like to recommend as our new pastor? If so, please fill out the form on this link.
Download Form
.
VBS 2023
is scheduled for the week of June 5, 2023, from 9 am - noon. Sign up now.
See Notice.
Wanted: Event Coordinator & Funeral Coordinator.
Bell Tower Rope. Ken Busby Jr. volunteered to replace the rope that goes to the bell in the bell tower at Lakeside Community Lutheran Church. When he was about to get down from the tower, it started to sprinkle. This photo is what Ken saw from the top of the bell tower.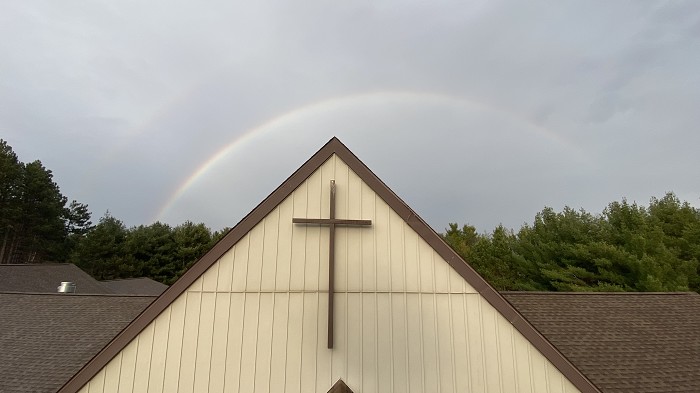 Getting Ready for Christmas at Lakeside
Erecting the nativity Scene is Doug Straub, Fred Paulson, Tony Kallas, Charley Peterson (not pictured is Mick Peterson)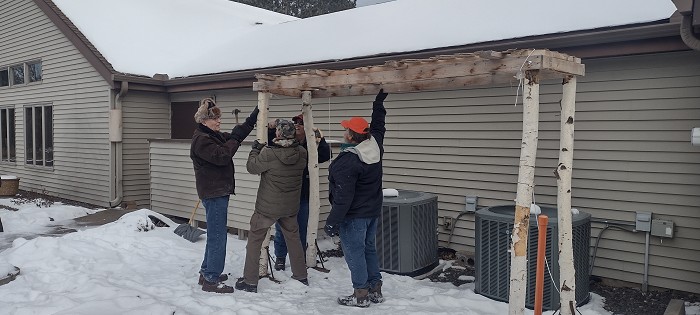 Decorating the tree is Patricia Sulander, Jolyne Peterson, Debbie Jackson, Marcia Proehl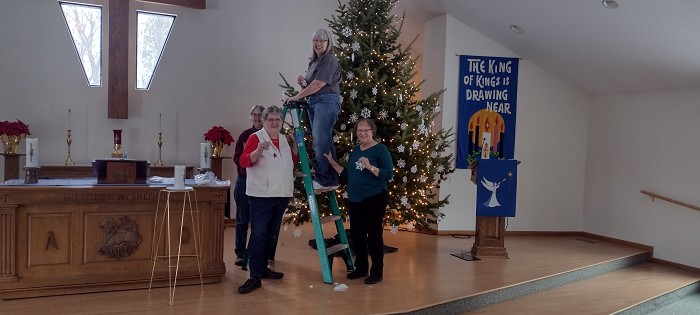 Below are Thanksgiving Baskets that the congregation of Lakeside Community Lutheran Church contributed to and assisted with.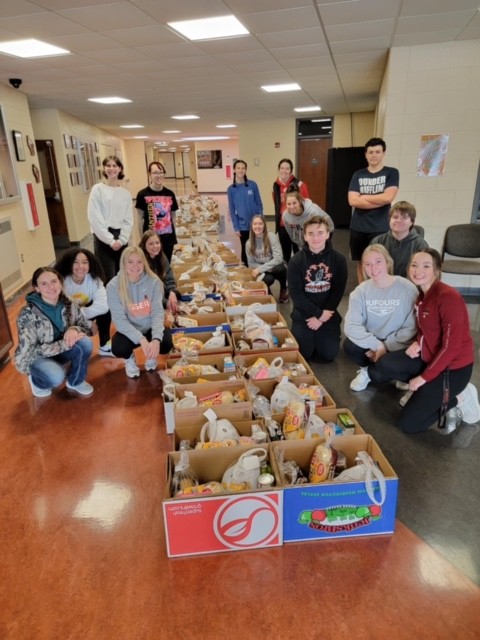 Lakeside Community Lutheran Church presented a check for $5,000 to Deb O'Connell of Yellow Lake Food Distribution in November 2022.
Participants from left to right are: Mick Peterson, Barb Behan, Pat Sulander, Deb O'Connell, Daryl Sulander, Margy Rogers, MaryMargaret Montandon, Tony Kallas, Sandy Swanson, Rich Borseth.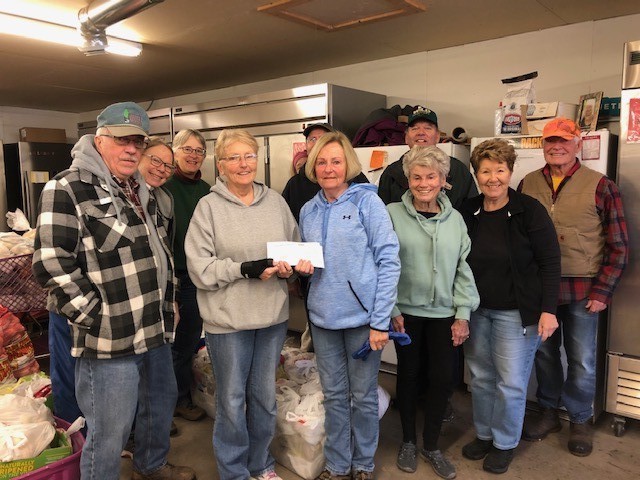 "The Producers" are featured below. From left to right: Marshall Hoff, Margy Rogers, Kristy DuBois, Tom Schneiberg. They record services, funerals etc. for the congregation. They upload the services on our website every week. Tom maintains our website. Thank you to Marshall, Margy, Kristy and Tom for all you do for Lakeside!!!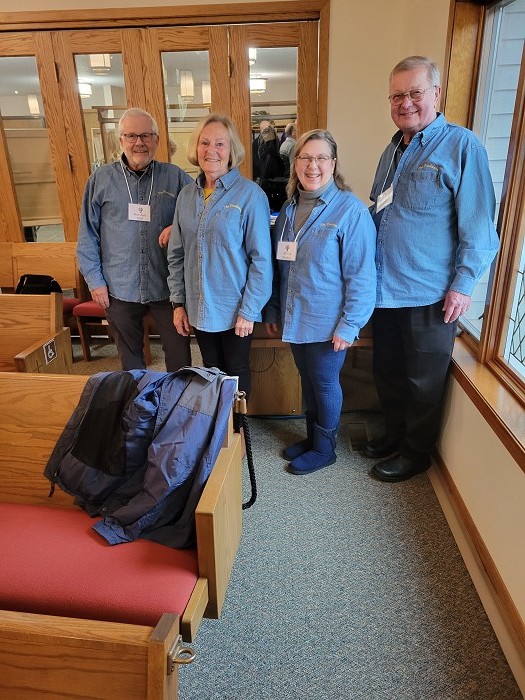 Below you will see some of our gentlemen, who loaded the mission quilts to take to shipping in October. Present are: Doug Straub, Pete Brace, Jim Studley, Mick Peterson, Bryan Dugstad.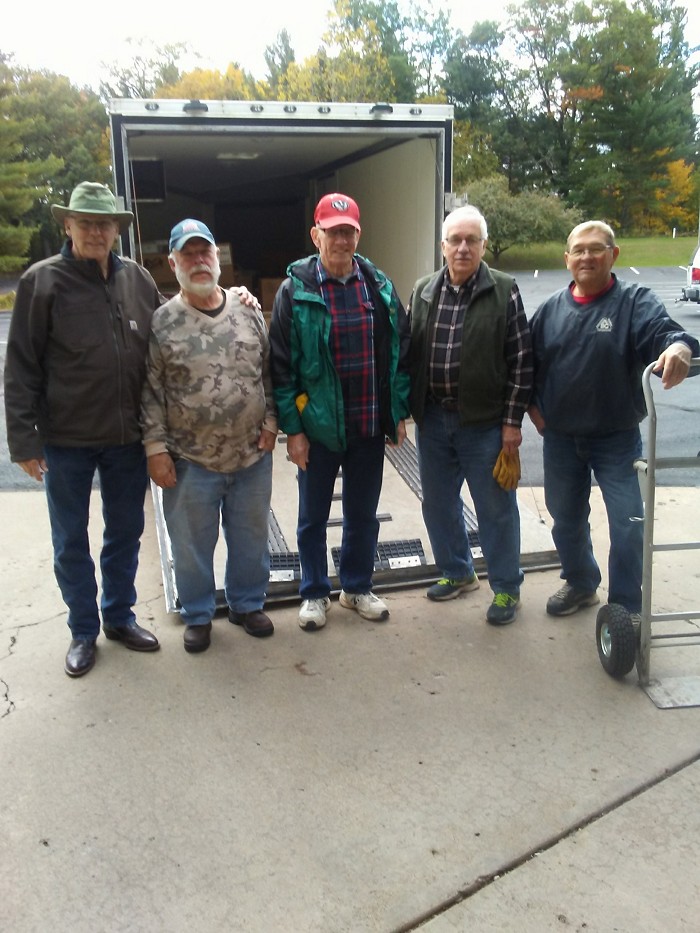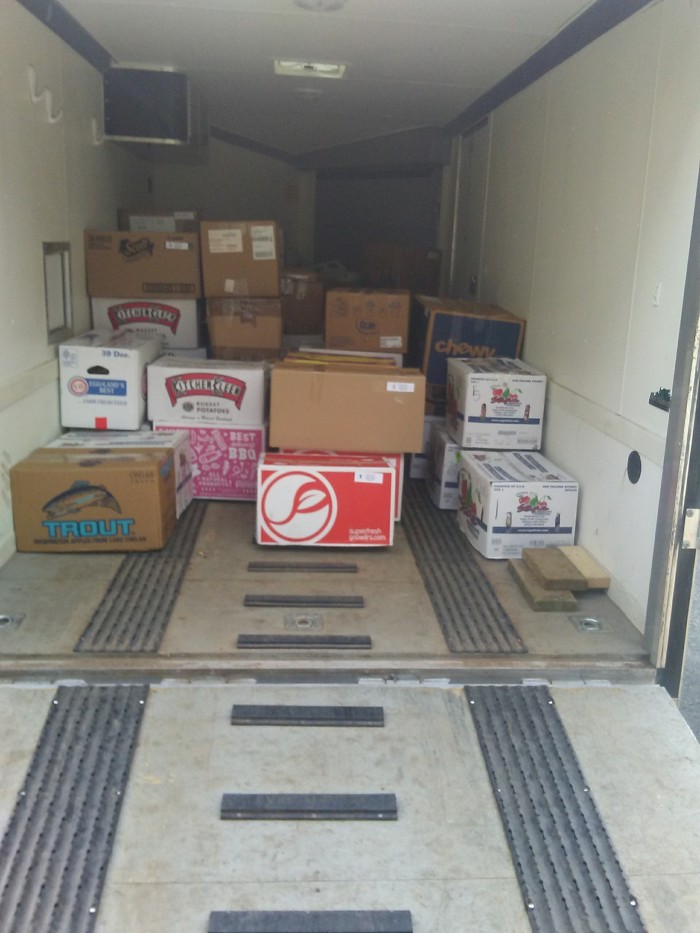 In October, Lakeside ladies put together 50 baby bundles for newborns which were delivered to local hospitals. Generous donations of slightly used and new newborn items were received from the congregation as well as a $250 donation from Thrivent.
Front row: Cecilia Benett, Pauline Nelson, Karen Pate, Darlene Hallberg
Back Row: Norma Olson, Sue Oslund, Cincy Royce, Sharon Wiemken, Vicki Struve, Linda Dobson, Nancy Lahner, Jolyne Peterson, Linda Spiedel.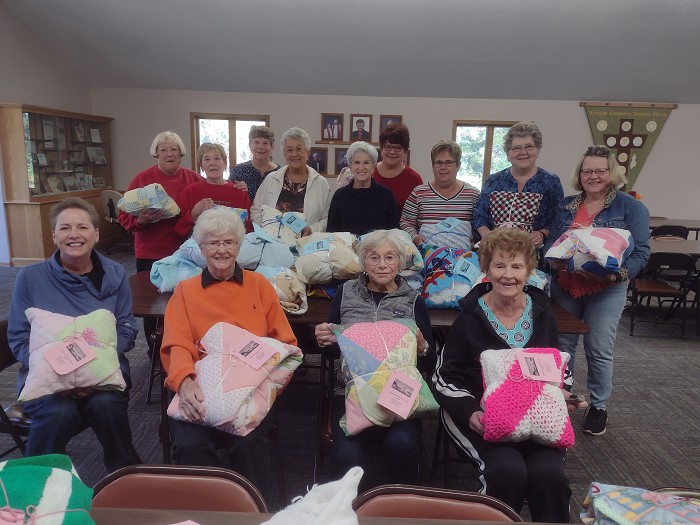 Below are a few of the folks who were members of the quilt chain, who helped move the boxes of quilts from downstairs to the narthex on Sunday, October 2, 2022. The blessing of the quilts took place during the service.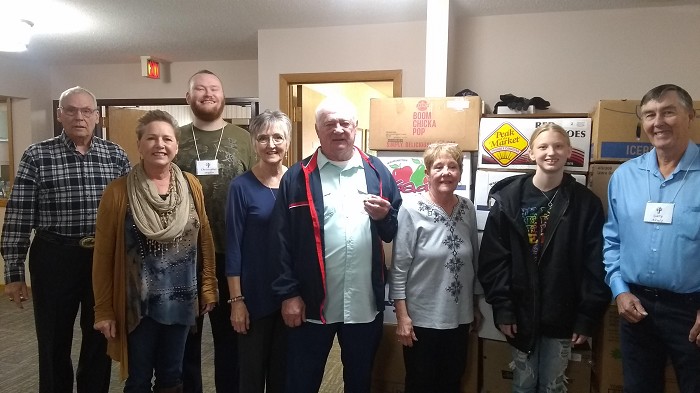 Thank you to this congregation for supporting the In-Kind donations that were delivered to the Fall Retreat. Over 100 items and cash donations were received, which were then delivered to the County Referral Agency. Attending the Fall Retreat included Anne Gelein, Pat Pope, Jolynne Peterson and Dawn Straub shown below .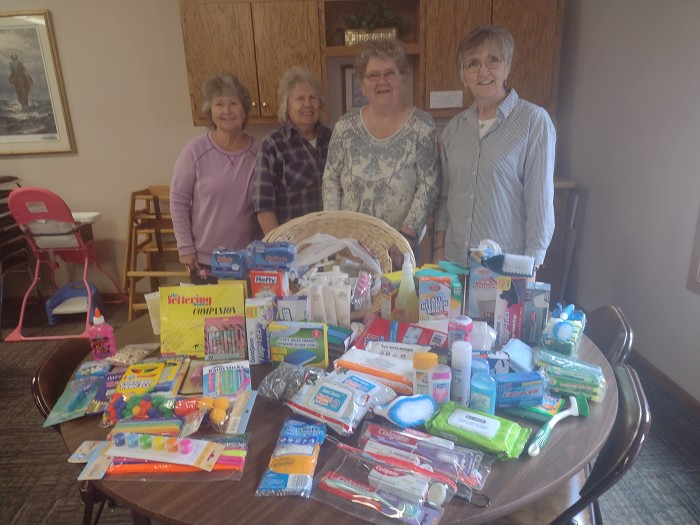 Thank you to all who supported our school supply drive
! Items (some pictured below) were delivered to Webster Elementary School on Tuesday, August 23rd. The supplies will be made available to students and their parents at the open house on Thursday, the 25th. Your generosity is very much appreicated! You have helped so many children. Thank you very much! God bless!
Cecilia Bennett
Below Cecilia Bennett is sorting school supplies for delivery.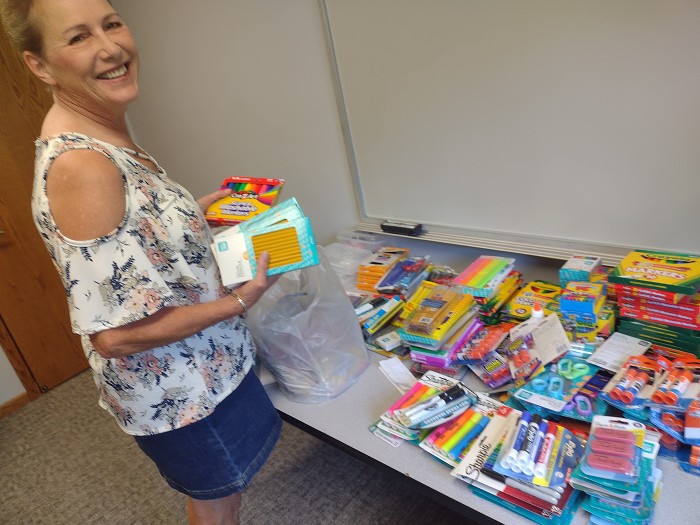 After approximately three years (due to pandemic), a thorough cleaning in Lakeside's Kitchen took place on August 15th. Dawn Straub, (Doug Straub is absent from photo), Deb Studley, Brenda Wheeler, Sandy Fisher, Ken Dobson, Linda Dobson, Jolyne Peterson all did wonders to the kitchen and Ken even cleaned quite a few of the church windows. Custodian Tanya Nelson will follow up by doing a super scrub of the kitchen floor.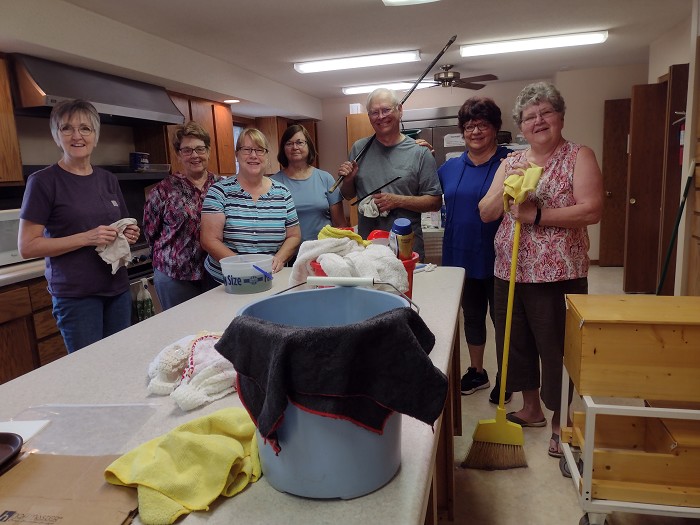 The 2022 WELCA Spring Luncheon
was held at the beautiful "Tea in the Garden" located in Lindstrom, Minnesota. Captured below are some of the ladies enjoying their day.